HACCP – Hazard Analysis and Critical Control Points, is a scientific-based system focused on ensuring the production of safe food by any organization within the food chain.

HELPS YOU WITH
WHAT IS HACCP?
TRAINING
HOW CAN QSI HELP YOU ACHIEVE HACCP
PAST CLIENTS
WANT TO KNOW MORE?
Food safety
Risk management
Hazard analysis
Critical control points
Production safety
Contamination risk
ISO 22000
Supply chain
Food chain
Customer needs.
Hazard Analysis and Critical Control Points (HACCP) is the most internationally recognised system based on production of safe food from a preventative approach. The guidelines for its application are established in the Codex Alimentarius CAP/RCP 1-19, Rev. 4 (2003).
A HACCP-based system is a legal requirement in several countries, including USA and UE, at all levels of the food chain, with the exception of primary production.
The 7 Principles of HACCP are:
   Conduct a Hazard Analysis Determine critical control points for each hazard identified
   Identify critical control points
   Set critical limits
   Carry out monitoring
   Carry out corrective actions
   Log records
   Check effectiveness verification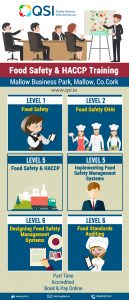 As well as working with you to achieve certification, QSI can also provide your organisation with staff training.
We can train your employees from Level 1 Food Safety up to Level 6 Food Standards Auditing.
We can work with your company to tailor a training package to meet your requirements.
We have also introduced Allergen Awareness training which we can bring your employees to the high standard you wish to maintain.
This training can be completed both inhouse and at our training office in Mallow Business Park. To discuss your requirements call now on +353 (0) 86 263 5113, or email us on info@qsi.ie
Initial consultation: We will visit your organisation and determine with you how best to progress your plan for HACCP implementation. Following this visit, we will issue a quotation and timescale to achieve certification.
Implementation: We will work with your Organisation and your Staff to achieve the benefits of a HACCP management programme. Whether you simply need a Gap Analysis on your current system, Internal audits, Management review or a full implementation programme, we will do this in a way that you and your Team are fully engaged in the process. Our aim is to make this a practical, value added and beneficial process that will make your organisation more effective.
Certification: We can assist you right up to certification. We deal with all the certification organisations in this area. Following the visits by the Certification Organisation we can continue to support your organisation to ensure continuous improvement.
Check out our past clients and our reviews by clicking HERE.