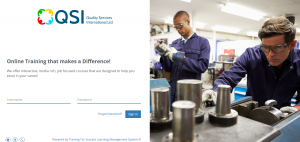 Quality Services International are delighted to announce the launch of our Online Training Platform. The Online Training Platform means that our courses can be taken at a time and place to suit you. Our online courses are easy to follow and make learning interactive. When you enroll on a course you will be assigned a tutor who is specialised in your chosen area and can answer your queries.
The platform has been developed over the past 2 years with the learner in mind. Courses are divided into units which are released to the learner as they progress through the course. On successful completion of the course you will receive a certificate of achievement.
If you would like to have a look at our Online Training Platform, click here to register.