ISO 45001 – Why should it matter to me?
There are numerous compelling benefits for any organisation taking a strategic approach to improving its Occupational Health & Safety performance.
Users of the standard have consistently reported that ISO 45001 helps with:
1. Improved Performance
ISO 45001 is a new standard which ensures that an organisation's OH&S management system is fully aligned with its business strategy, hence it has improved performance and has enabled us to establish robust performance processes within organisations.
2. Enhanced Reputation
Having the ISO 45001 standard will reassure all your stakeholders – customers, decision makers, employees, investors, your local community – that your organisation takes health and safety seriously, thereby building trust, confidence and reputation in your brand.
3. Reduced Risks and Costs
Like a vital cog operating in a system, a well implemented ISO 45001 system will support and enhance other safety systems and mechanisms you employ to reduce risk. Not only does risk reduction lead to a safer workplace, it also helps to keep costs down through fewer workplace accidents and lower insurance costs.
4. Leadership and Engagement
Buy-in from both senior management and from employees will ensure that a culture of safety is embedded in the organisation from top to bottom. This type of collaborative environment will ensure that continuous improvements are sustained, because they are based on bottom-up flow of feedback and adjustment – and not just top-down "orders." This will help to foster a first-class safety management system that leading to a mature safety-conscious culture in the workplace.
5. Using ISO 45001 and Lean for a Safer Workplace
While ISO 45001 is a standalone standard, it can be a powerful tool to achieve longer term benefits when deployed in conjunction with Lean principles for a safer workplace. Lean principles are traditionally implemented within a business to increase efficiency and save money otherwise lost through waste. You may be familiar with 5S and its ability for organising and reducing waste in a workplace, but did you know 5S also has huge benefits in the world of health and safety. A well organised and well-maintained workplace is not only a more efficient and productive workplace, it is also a safer workplace.
"If you think Safety is expensive, wait until you have an accident!"
– Anonymous
When we contacted QSI, our Safety Manager had recently left.  We needed support to help us until we hired a replacement person.  Siobhán from QSI visited our plant frequently and made sure that we were fulfilling the necessary functions – safety audits, corrective actions, safety committee meetings, training, procedures.  As a result we had zero accidents and zero lost time.  The main benefit of this was to ensure as smooth a handover as possible to the new incumbent when they came on board some months later.  An added benefit was that we had applied to upgrade our safety standard to ISO 45001 2018 and we achieved that in 2020.  Getting help from QSI was a weight off our shoulders for a few critical months until we had the full compliment of staff.
ADI are one of Ireland's premier Structured Cabling companies. ADI provides Installation, Maintenance and Comprehensive cabling and IT solutions to all its clients ranging from SME's to multinational pharmaceutical, technology, and financial customers.

Prior to commencing the process we, as a Company, were somewhat unsure of what was required of us in order to secure the appropriate standards (ISO 9001, 14001, 45001), however having completed the journey we are extremely satisfied of what we have achieved and what this means for ADI.

The service and the can do attitude of Richard from QSI  Consultants who assisted us was a great help. QSI and particularly Richard were knowledgeable, very helpful and readily available to address any queries we had along the way.

Securing the ISO standards will be of considerable benefit to us in many different aspects of our business including recruitment, expansion, quality control, and standardisation of processes. We would highly recommend the services of QSI Consultants.
QSI have worked with BAF over the past couple of years and we have found them to be very reliable

with top quality workmanship especially given our high end industry and at competitive rates.

They have enhanced and assisted in streamlining of our business processes and with accreditations to the highest standard.   We would have no hesitation in giving them the highest recommendation.
CID Ltd is a system engineering company, providing turnkey automation solutions to a range of industries. Based in Co. Cork, Ireland since 1983, we pride ourselves in designing and implementing process solutions systems that deliver an optimal return on investment to our broad customer base.

We have worked with QSI to install, implement and maintain the ISO standards (ISO 9001, 45001).   Without these standards, we would not be in a position to successfully tender for work with the pharmaceutical industry especially.  Being a technical software driven company regulation is part and parcel of our business and the management systems enable us to solve problems much faster and efficiently.
A Safer Workplace With 5S
Like all Lean manufacturing principles, 5S and its pillars of Sort, Set in order, Shine, Standardise, and Sustain exist to improve effective working and to reduce waste. But 5S can also help to nurture a safer working environment by virtue of providing a more organised and clutter-free work area minimising the risk of common items such as trip hazards, to cite just one obvious example. 5S literally is key to 'Lean Health & Safety' if implemented through a well-planned, deliberate process such as that implemented by QSI.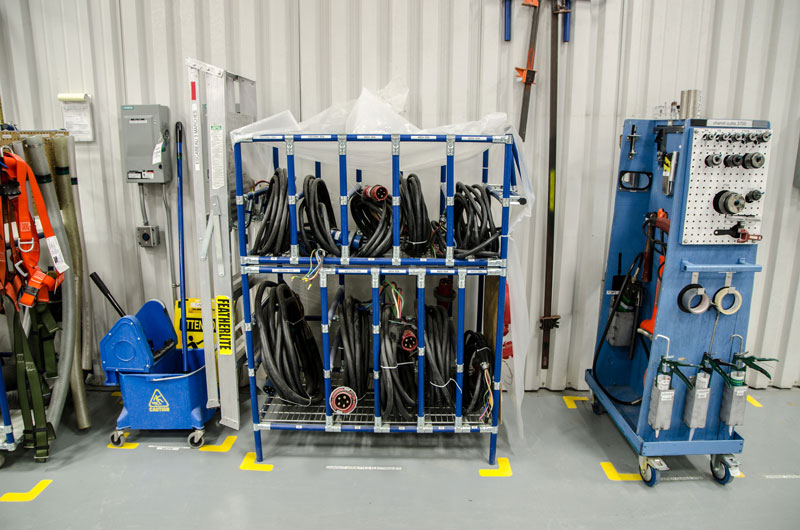 5S is about so much more than simply 'tidying up' your workplace. It's a powerful, proven system for ensuring that good, consistent housekeeping reduces your risk from potential hazards.
All physical objects are given a designated area which is organised, planned and deliberate.
Each placement is carefully assessed
Benefits include improved efficiencies, less employee stress for employees and a higher quality of work.
And of course, fewer accidents due to a reduction in the actual number of possible risks. After all, if you have 10 potential risks as opposed to 100, there is less opportunity for them to occur.
As the saying goes, practice doesn't make it perfect – it makes it permanent. So consistent adherence and implementation of these processes will make them into a corporate habit of second nature with the resultant benefits.
Every leader or manager within an organisation knows that complete safety can never be 100% guaranteed – after all we are all human. But what they should be able say with conviction is that they took every reasonable step possible to make it as close to 100% as possible.