Transform Your Business's Performance
With over 2 million certificates worldwide for ISO 9001 there must be something pretty significant going with it. Many of our clients speak about it as a passport to trade. Without it a company has no chance of getting on lists to bid for work or to get on an approved supplier's list. After all, it has become one of the most recognisable and accepted standards internationally.
ISO 9001 is all about Quality. So If I asked you what was your favourite restaurant and Why do you go back there again and again?. It may be for lots of reasons – the food, service, the relaxed setting, the friendliness, maybe something unique about the place, price an opportunity to meet other patrons etc.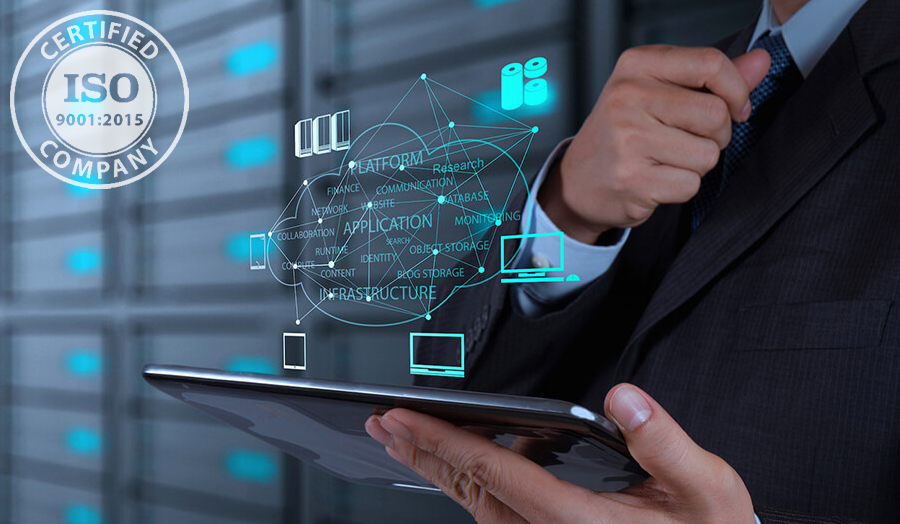 Whatever the reason(s), the chances are you didn't say McDonalds! And yet, no company in the history of this planet has single-handedly made more money from food than McDonalds. It grew from just a couple of restaurants in the United States to what is now over 38,500 restaurants around the world.
And the primary reason for their success? It certainly is not that they have the best burgers in the world though they might depending on your point of view. No, the real secret is for McDonald's huge success is that they adopted the principles of ISO 9001 at a very early stage. The rest as we know, is history. So if ISO 9001 can do that for a simple burger restaurant, imagine what it could do for your business?
So –
if success matters to your business;
if profits matter to your business;
if reducing costs matters to your business
whether you are a one-person florist or a large, multi-national company, you need to talk ISO 9001 with the ISO experts at QSI.
Our Clients
Quality Services International and Pat McCarthy worked with us extensively to make achieving the ISO 9001 standard both a challenge and more importantly a reward. They assisted us in creating, implementing and maintaining a quality management system that suits our requirements. Pat's knowledge and ability in this sector is invaluable to any company with these needs.
We have attained ISO:9001 with the help of Pat and all his team in QSI, we have found that attaining the certification has been a great benefit to our business, we have been able to grow our business with new customers with this certification. I would highly recommend any company to aim for this certification as it will indeed improve their business and make them more competitive when chasing new business. Furthermore, the standard of work done with Pat has been outstanding also
We have been working with QSI for many years , they helped us achieve the ISO standard at the beginning ,  but now they help us maintain and enhance the system , Thomas has worked with IPP now for many years his advise is both practical and effective , we find the suggestions made both help us maintain the ISO certification but more importantly add benefit to the quality system and ultimately IPP work practices  as a result
We have been working with QSI for over 15 years and our business has greatly benefited from their knowledge and guidance.

They have fully revamped our Quality system and made it more understandable for our business needs.

Our Audits and daily tasks have been running smoothly, with this our business has saved countless hours to work on what we do best.

They always have great ideas and improvements on every visit.
I first met Pat McCarthy in June 1994 when he arrived to our office to perform an external audit for one of his clients. After the audit we had a discussion about the concept of ISO and we agreed it was the way forward.  A short time later we availed of the services of QSI and working together we installed BS EN ISO 1994.

We both agreed if this system is used properly within a company the return should be well justified.

27 years later and we are still compliant thanks to the great services of Pat & Thomas in QSI. I have no doubt our business would not have come to where it is today with a workforce of 49 from 6 in 1994.  I would like to endorse the fantastic service they provide and I hope our partnership will last for many a year to come.
Pat many thanks for helping us in preparing for the ISO 9001:2015 audit. Your prompt quick response to our initial enquiry was greatly appreciated.

Your knowledge was our pathway in successfully passing the audit.

The way you explained things clearly helped us identify gaps, your advice and assistance at each stage proved invaluable. We would highly recommend your excellent service

When ISO is successfully implemented, it will be so much more than just a certificate of compliance. It will drastically improve the performance of your company from top to bottom.
On behalf of the Management and Directors and Staff here at Master Engineering.

I just wanted to thank both QSI and you personally for assisting us in achieving the ISO: 9001:2015 & EN1090 Standards.  A special word of thanks to Daniel for his assistance , expertise and strategic alignment of the systems we put in place.

Daniel's expertise in both ISO & EN1090 Standards ensured that we maintained the momentum in achieving the Standards within 6 months of implementation.

We look forward to continuing to work with QSI and Daniel going forward to ensure than maintenance of our systems are implemented.

I will touch-base with you both soon to discuss our strategy going forward.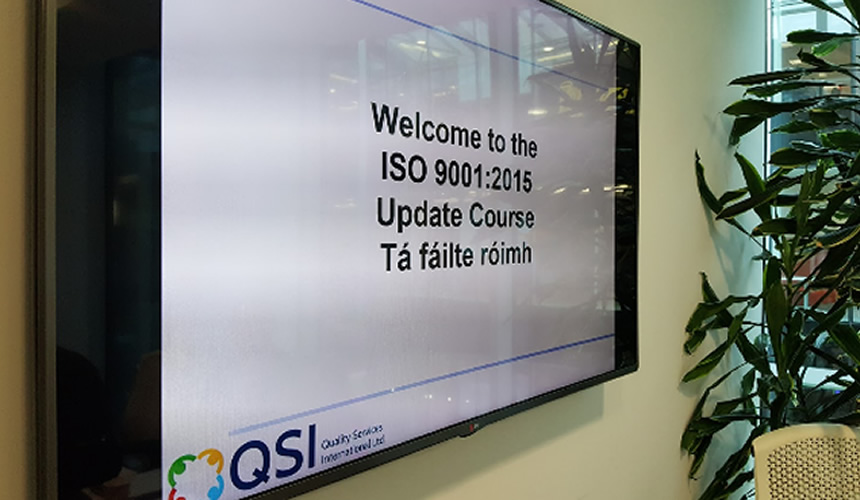 Over the past 35 years QSI have been helping a variety of companies across many sectors to achieve certification to many different ISO 9001 standards with the core aim of these standards adopting the concept of Continuous Improvement.
Far from being incorrectly perceived as an unnecessary luxury, implementing ISO 9001 can be the driving force to help achieve real and lasting change in your business.
Dramatically increase profits
Slash costs
Turn customers, employees and suppliers into raving fans.
How It Works?
ISO 9001 Certification focuses on dramatically improving 8-key areas of your business:
Customer Focus
Your Process
Your Systems
Your Leadership
Fact-Based Decision-Making
Involvement of People
Continuous Improvement
Mutually Beneficial Supplier Relationships
When ISO is successfully implemented, it will be so much more than just a certificate of compliance. It will drastically improve the performance of your company from top to bottom.
Of course, it goes without saying that such results are not achieved without some work and commitment across the entire organisation just as one does not simply turn up at a gym and hope to build muscle. But with the right level of commitment, the result will be higher sales, higher profits and a flexible more nimble organisation working to higher standards.
With business, as in life, we recognise and fully understand that change can be perceived as a difficult journey to embark up on but rest assured, at QSi we are committed to building a mutually beneficial relationship with you. We will listen hard to understand the possible impacts that standards implementation may have on both your business and your people, so we start this process all on the same page.
We will work with you to nurture a positive, can-do environment to help this process succeed.  Using a unique blend of industry-leading knowledge combined with coaching and drawing on our vast bank of experience, we will create a safe, non-judgemental space for you and your team to work effectively with us. This creates the perfect conditions for a frank and transparent process which gets to the root of your problems faster, therefore allowing you to reach the ISO 9001 'destination' more quickly.
Be under no illusion, however; we don't promise overnight miracles. This process takes time, commitment and patience. But the results are dramatic transformations that stick and continue to serve long into the future.
"When you are finished changing, you are finished."
– Benjamin Franklin
The Tools We Use To Implement ISO 9001
We don't want to bombard you with industry jargon but we use a range of visual, colourful practical tools including elements of
LEAN
Kaizen
Value Stream Mapping
allowing all parts of your organisation to understand what is happening and what their role in the process is.
The result is whole scale participant buy-in across your organisation.
The diagram below provides a very simple illustration of the environment most organisations live in. It is not enough to just deal with one or two elements. Your whole ecosystem must be taken into account and QSi's approach to ISO 9001 will impact your entire organisation.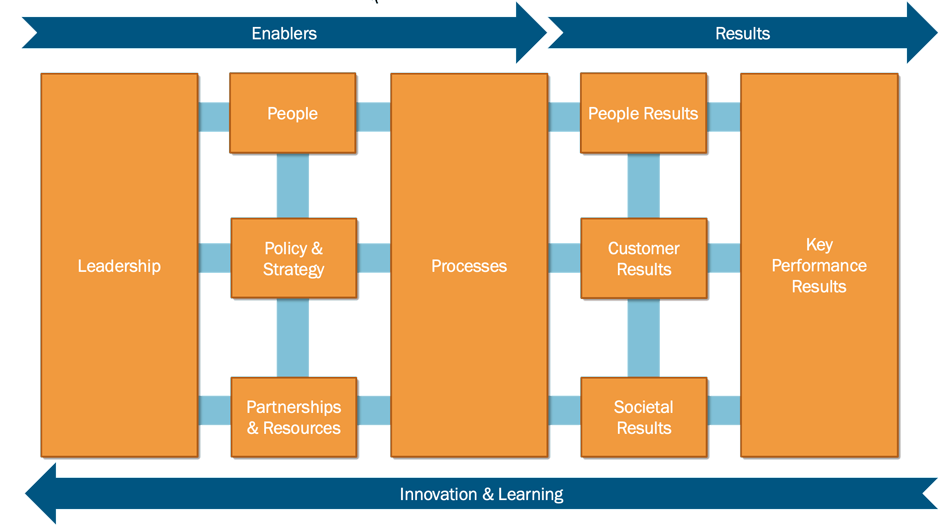 Get ISO 9001:2015 Certified Today
Complete the short form below to start your move towards business excellence