Business Excellence
Enterprise Ireland "Lean Business" Offer
You may have heard about LEAN but not be entirely clear on what it is.
Very simply, LEAN is about helping your organisation reduce waste, become more agile, concise and efficient, all whilst maximising customer value. In other words, happier customers and costs savings for your organisation = more profits.
LEAN has its origins in the USA with it being pioneered by the Ford Motor Company. The concept was adopted by various manufacturers but it was not until Toyota Motor Company of Japan really made it part of their culture that LEAN finally arrived as a respected business tool. The average annual saving enjoyed by our LEAN clients today is €78,843 per year.
Enterprise Ireland's Lean Business Offer is designed to encourage clients across most sectors and of any size to adopt Lean principles in their organisation to increase performance and competitiveness.
Lean tools and techniques can help your organisation to improve competitiveness by building the capability of your people to identify problems and improve operations.
The Lean Business Offer is made up of three levels of support:
A bit like a Beginner, Intermediate and Advanced level, each level of support is characterised by increasing levels of capability in implementing Lean business principles and other best practice approaches to drive company awareness, adoption and integration of Lean tools and techniques.
Get in touch with us today to arrange a FREE, no-obligation consultation where we can discuss your exact businesses needs and talk you through our process to address them. Using that information, we can provide you with a quotation, a roadmap and timescale for implementation of our programme. Our programmes are designed to deliver maximum value for your business and all its stakeholders, taking your business performance to the next level.
Lean Start
The Lean Start is designed to give companies who are considering implementing lean thinking into their businesses an opportunity to experience a short engagement with a lean consultant who together will complete an internal lean project. The relatively small project will demonstrate how engagement with an independent consultant can deliver benefits and is an opportunity to consider what a Lean Plus programme might look like. Companies that complete the Lean Start are encouraged to continue their journey via a Lean Plus. Lean Starts also provide the necessary time to prepare a more detailed Lean Plus and Lean Transform application.
The improvement project chosen for the Lean Start will focus on key pain points within the organisation and include only the key personnel from the area. The Lean Start should be completed in 7-9 weeks.
The Lean Start costs €6300 and is funded by €5,000 by IDA Ireland and Enterprise Ireland.
Companies looking to undertake a Lean project over a medium-term period (typically 6 to 9 months) can apply to Enterprise Ireland for a Business Process Improvement Grant to support the costs of a QSI Lean Plus Assignment.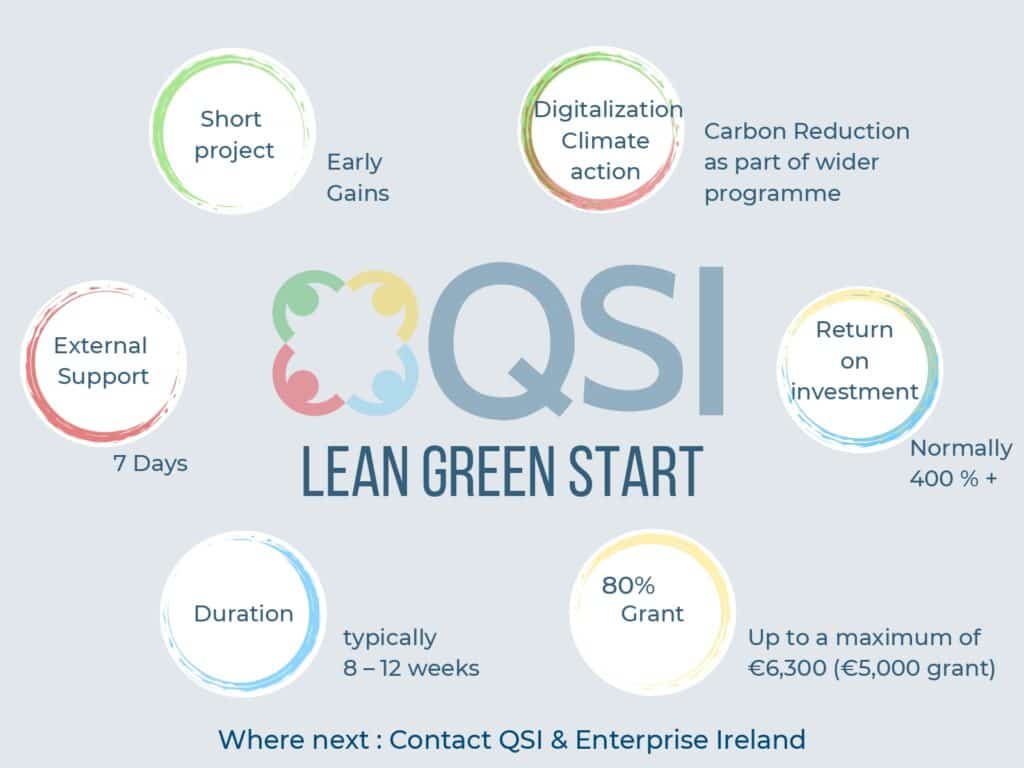 Testimonial
As a result of a Lean Programme, we Introduced of Lead Free Soldering Machine concentrating on reduction of waste and Environmentally friendly Solution to Customer needs.
From the Initial reporting we achieved 30% less short circuits on the boards
This in turn reduced rework times and lead to less failures in the testing process, also saving time. We achieved cleaner pcbs, Improved appearance of boards and better quality.
Maintenance times were reduced by 50% as the older machine needed a lot of cleaning each week. We Improved reliability as Old machine was often breaking down holding up production. Time and money saved in running repairs.
Throughput of boards increased by 25% as the Boards no longer need preheat system, so the boards run through the soldering process more quickly.
The other point worth mentioning is that we are no longer using our Lead solder machine. We were able to convince our American customers that the new machine brought increased reliability and were therefore able to switch over 100% to the greener option of Lead-free.
Pierse Endersen, Manager.